WHAT TO EXPECT
For one thing, we will do our best to never put you on the spot. We can appreciate what it feels like to step into an unfamiliar situation. We will not single you out or publicly call attention to you. We want you to feel at home, like you are among friends–because you are!
Most of our worship services have an relaxed, family atmosphere. Our music incorporates a blend of styles, from traditional to contemporary. We worship through prayer, song, and sermon. There is also an opportunity to worship through the giving of financial gifts to support New Salem's ministry, but we do not expect guests to participate in this collection–it is strictly voluntary.
Our pastor's messages are based on the Bible, seeking to connect the timeless truths of the scriptures with the issues of modern life. Each service ends with an opportunity to respond to what God has been saying to you through the service. Throughout the service, our prayer altar is open to anyone who feels led to seek the Lord in silent prayer.
FOR YOUR KIDS
At New Salem Baptist Church, we love kids! For children under 3, nursery care is provided during all services. The nursery is located close to the main auditorium: from the lobby, take the corridor on the left, and the nursery is the first door on the right.
During the Sunday morning 10:45 service, children ages 3 through grade 5 are invited to Children's Church, a fun, interactive program that helps kids worship on a level that is exciting and engaging for them. Children's Church meets in the Children's Church Building: from the main lobby take the corridor on the left and follow the signs.
Activities for kids ages 3- grade 5 are also offered during Sunday and Wednesday evening services in the Children's Church building. Ask the children's ministry volunteers on duty for details. While you are at it, check out the variety of special activities New Salem offers children throughout the year, including our annual Easter Egg Hunt, Vacation Bible School, our Trunk-or-Treat Fall Festival, and Breakfast with Santa.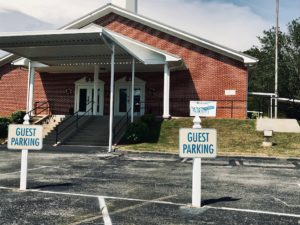 Where Should I Park?
We have reserved several parking spots just for guests right in front of the main entrance. If these spots should happen to be full, there is plenty of additional parking around on the front and rear of the building, or in the overflow lot on the hill overlooking our campus, which can be accessed via the driveway on the right (if you are facing the main entrance) side of the parking lot. Just look for the signs.
Once you park, be sure to come in the main entrance (clearly marked) and visit the 'Welcome' Desk for assistance.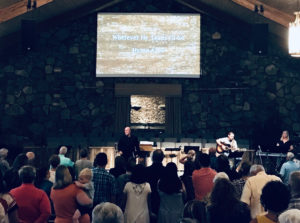 What Should I Wear?
Our clothing policy at New Salem is very simple–just wear some! Some people come dressed in suits or dresses. Others dress more casually. We are just glad you came!
Weekend Service Times & Location
WEEKEND SERVICE TIMES
Small Group Bible Study for All Ages on Sunday at 9:30 AM
Worship on Sunday at 10:45 AM In-Person or Online
Midweek Bible Study on Wednesdays at 6:30 PM
New Salem Baptist Church
9806 Dallas Hollow Road, Soddy Daisy TN 37379