Enlarging the Reputation of Jesus
"

Let your light shine before men in such a way that they may see your good works, and glorify your Father who is in Heaven." (Matthew 5:16)
At New Salem, we sponsor a variety of opportunities to love people and preach Jesus in our community, both inside and outside the walls of our buildings. Here are some examples: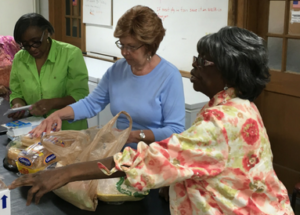 New Salem regularly sends teams of volunteers to the HaCoBa Care ministry center in Chattanooga s St. Elmo neighborhood, where they help box food for needy families and share Jesus with HaCoBa Care clients. If you are free during the day on the 3rd or 4th Tuesday of each month, and you feel called to help hungry people, contact New Salems church office to find out how you can get involved in this important ministry.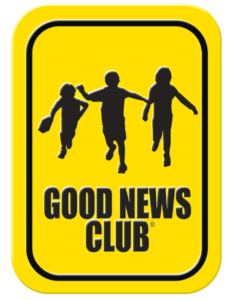 In partnership with Child Evangelism Fellowship, New Salem sponsors a "Good News Club" at Allen Elementary School. This club meets each Tuesday afternoon after school, and is open to any Allen student whose parents/guardians have given permission. Participating kids enjoy songs, games, and Bible lessons with our carefully screened and trained volunteers.
Packed with Hope Project
Packed with Hope is a ministry to assist foster families in northwest Hamilton County. Often when a child is removed from a home and placed in the foster care system, he or she comes with very few possessions. Pack with Hope provides a backpack filled with clothes and toiletries to help carry kids through the chaotic initial days of placement. Packed with Hope volunteers collect and sort donations of new or gently-used clothing, stuff backpacks, and assist foster families in obtaining backpacks.
Interested in volunteering? Use the form below to request for information. If you are a foster parent who would like to know how to receive a Packed with Hope backpack, call our office
(423)842-3078.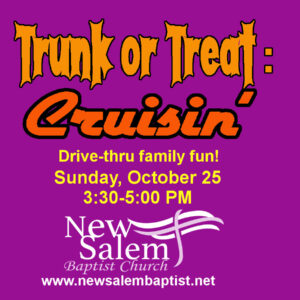 Trunk or Treat!
New Salem's Children's ministry is hosting its annual Trunk or Treat this year…with a twist! In order to observe social distancing, this year's even will be a drive-thu event. You and your family can enjoy our decorated vehicles from the safety of your own car, and bags of candy will be handed out to each child. This year's Trunk or Treat will take place on Sunday, October 25, from 3:30-5 PM in the New Salem parking lot.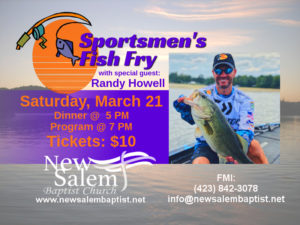 New Salem Sportsman's Ministry
Soddy Daisy is surrounded with natural beauty, and New Salem has a ministry designed for those who enjoy the outdoors. In addition to our annual Sportman's Fish Fry, we also have a Bible Study group made up of anglers and hunters that meets every Sunday morning at 9:30 AM. Throughout the year our Sportsman's ministry also gets together for impromptu fishing tournaments, cookouts, and other opportunities for fellowship. For more information, call (423) 842-3078, or use the contact form to request more information.
To learn more about volunteer opportunities at New Salem, please contact us using the form below:
New Salem is pleased to partner with: