New Salem's Response to the Covid-19 Crisis
Your physical health and safety are important to us, but so is your spiritual health. Therefore we care committed to ministering as openly as possible, but with appropriate precautions.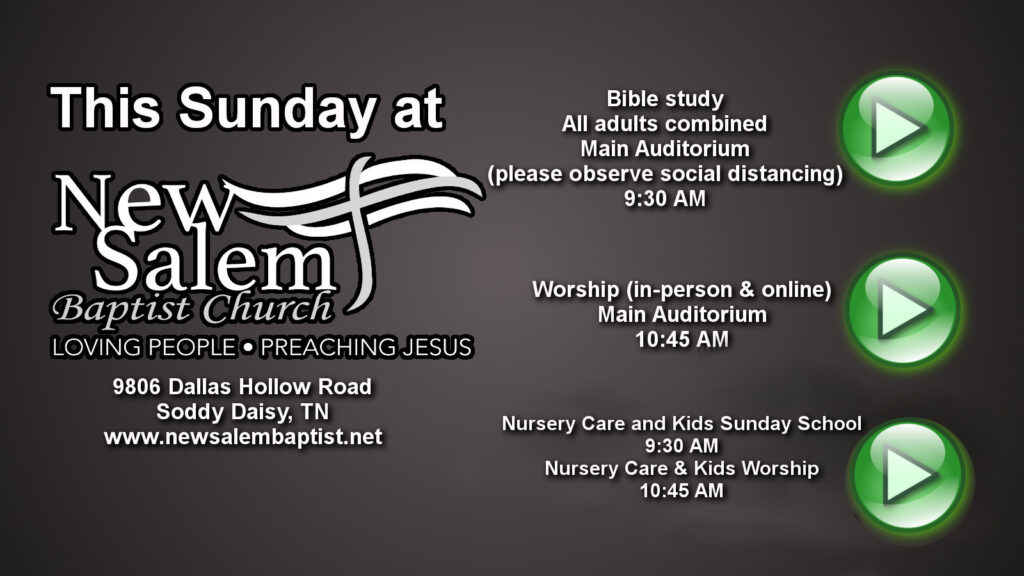 ​

​
​
In-Person Worship @ 10:45 AM
If you are planning to attend in person this Sunday, help us keep each other safe by observing the following precautions:
If you are sick, or have been around someone who is sick, please stay home and join us virtually through our livestream service.
Please enter through the main entrance, where your temperature will be scanned.
Please wear a mask while inside the building.
Please respect the six-foot social distancing recommendations.
Please sit only in the open pews (to help us with social distancing).
Please wash your hands or use hand sanitizer frequently (we have several hand sanitizing stations around the building).
Instead of passing an offering plate, we are collecting gifts through two collection boxes located just inside the main auditorium. You may also take advantage of our online giving option.
Experience and data have shown that these precautions greatly reduce the chance of virus transmission. Thanks for helping us meet safely!
Not quite ready to be in a crowd? Join us for a special worship live-stream
this Sunday

at 10:45 AM
on YouTube and Facebook.
All other on-campus services and activities
remain canceled

unless otherwise noted.
What else is New Salem doing to meet safely?
We are thoroughly cleaning and sanitizing the spaces we will be using.

We have removed hymnals, envelopes, pens, etc. from the auditorium to reduce the number of surfaces that people may come in contact with.

We are closing off every other pew in the auditorium in order to help families maintain the recommended distance from each other.

We have secured items like no-contact thermometers, cleaning supplies, masks, and no-contact dispenser stations for hand-sanitizers.
Bulletins will be available for pick-up at stations in the main lobby.

Please respect the six-foot social distancing recommendations while in the building.

​

After the service, we will dismiss by rows in an orderly fashion. Please remain in your seats until your row is dismissed. Then proceed out of the designated exits to the parking area.
We realize that some of these measures may seem inconvenient, but for the moment they are necessary in order to keep each other safe. We appreciate your cooperation.
​