New Salem's Response to the Covid-19 Crisis
All on-campus services and activities canceled
until further notice.
Please join us for a special worship live-stream this Sunday
at 10:45 AM on YouTube and Facebook.
Here's Pastor Alan with the latest update about how we are adapting to the Covid-19 crisis:
Help New Salem Serve Our Community During this Crisis!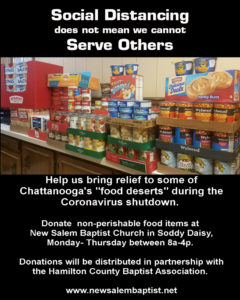 Did you know that there are impoverished neighborhoods in Chattanooga where residents do not have easy access to a grocery store? New Salem is partnering with the Hamilton County Baptist Association to collect food for some of those families. Donations of canned goods and other non-perishables are being accepted at New Salem's church office Monday-Thursday, between 8am-4pm. Pull up under the awning in the back and either ring the bell or call (423) 842-3078. Thanks for your help!
Need help accessing New Salem's Livestream?
Watch this video for step-by-step instructions:
Here's how you can continue to support New Salem financially even when we are not able to meet:
Please check back frquently for updates!