New Salem's Response to the Covid-19 Crisis
Your physical health and safety are important to us, but so is your spiritual health. Keep reading to find out about the precautions New Salem is taking as we plan to re-gather:
​
Are You Ready to Come Back to Church?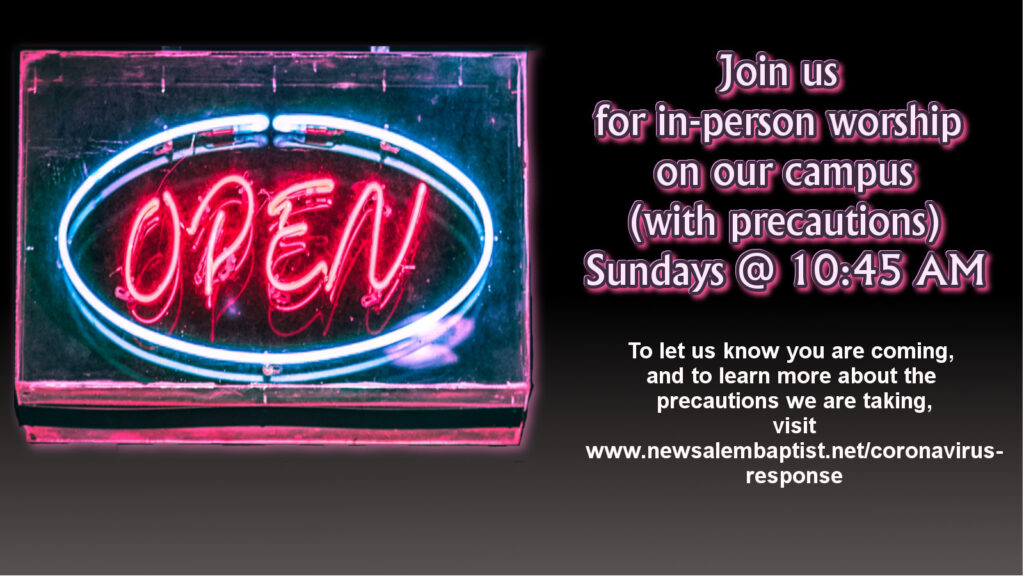 ​
​
If you are planning to attend in person this Sunday, help us be prepared for you by noting the precautions below!
Two Small Groups to choose from on Sundays @ 9:30 AM:
-A mixed group (open to anyone)
In-Person Worship @ 10:45 AM
Not quite ready to be in a crowd? Join us for a special worship live-stream
this Sunday

at 10:45 AM
on YouTube and Facebook.
All other on-campus services and activities
remain canceled

until further notice.
New Salem resumed in-person worship
from our campus on
Sunday, May 31
.

Please understand that these services are contingent on the continued improvement of conditions in our community, and on our ability to minimize the risk for those who choose to attend. Keep reading to learn the steps New Salem is taking to regather regather safely, and what you can expect when you come to worship.
What is New Salem doing to prepare?
We are thoroughly cleaning and sanitizing the spaces we will be using.

We have removed hymnals, envelopes, pens, etc. from the auditorium to reduce the number of surfaces that people may come in contact with.

We are closing off every other pew in the auditorium in order to help families maintain the recommended distance from each other.

We have secured items like no-contact thermometers, cleaning supplies, masks, and no-contact dispenser stations for hand-sanitizers.
What Can I Expect When I Come to Worship?
Please understand that we will not simply be picking up where we left off on March 8. We will start slow, with only the 10:45 AM worship service. That means, at least initially, there will be:
limited Sunday School or small groups on campus

no nursery care

no Children's Church

no Youth meetings on campus
Those things may return in time, but we need to walk before we can run. In the meantime, we will offer online alternatives as much as possible.
As we meet we will need your help with special precautions designed to minimize the risk towards one another. These precautions are based on the recommendations of our government officials, health experts and denominational partners:
If you are sick with a fever or respiratory issues, or have been around someone who has those symptoms, we ask you please to stay home and enjoy the live-stream. We'll be happy to see you again when you are well.

We will limit attendance to 125 people in the main auditorium, with an overflow area set up in the Unity Building to accommodate another 100 people (we will project the service on a screen so those people can worship together). If it looks like we will need even more space, we will consider additional options.

We are strongly encouraging (but not requiring) all adults, teens, and older children to wear a mask while in the building. We will have extra masks available for those who do not have them.

Please enter the building using the main entrance.

As you enter, you will be scanned with a no-contact thermometer to verify that you are fever-free.

Bulletins will be available for pick-up at stations in the main lobby.

Please respect the six-foot social distancing recommendations while in the building.

We will not pass an offering plate. Instead, offering boxes will be placed near the exits so that you can deposit your offering on the way out. Our ushers will be stationed

nearby to monitor the boxes.

​

After the service, we will dismiss by rows in an orderly fashion. Please remain in your seats until your row is dismissed. Then proceed out of the designated exits to the parking area.
We realize that some of these measures may seem inconvenient, but for the moment they are necessary in order to keep each other safe. We appreciate your cooperation.
​